Services
Onsite Testing, Profiling, Surveys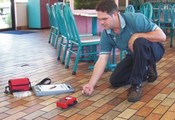 From the moment Sure Grip experts enter your site, we are constantly profiling and evaluating your safety needs. We'll interview staff and conduct surveys of safety problems, and determine solutions to those problems immediately. We guarantee we'll make a big difference in staff confidence by improving floor safety for you.
Staff Training and Education
When we leave your location after application of our floor safety treatment, your staff will be informed on the proper treatment and maintenance required to uphold our non-slip system of floor care. Daily cleanings and immediate attention to spills will result in high rewards for you in advanced floor safety and hygiene.
Sure Grip has a library of training information, tips, and expert articles on floor safety written by the top professionals in floor safety. Our website will keep you informed of the latest legislation, standards, and requirements in floor safety as well as breaking news and new products available in the floor safety industry.
Quality Control and Follow-up: Expert Testimony;

Your management staff will know that they can call on us at any time for advice and suggestions for improvement in any area of staff and food safety. Offering expert testimony, seminars, and on-site safety training, we are here for you.
Call us, and tell us how we can help you solve your safety problems. Whatever they are. Our experts will follow up immediately and Sure Grip will take care of the problem. Your safety is our business, and our ongoing support is something you can count on!